I found an amazing webcomic !!! It's called Noblesse. The authors are named Son Jae Ho and Lee Gwang Su for the art.

I don't feel like writing an original resume, so here comes the Mangafox summary :

He awakens.
For 820 years he has slumbered with no knowledge of mankind's advancements and scientific achievments. The land which he once knew has become an unfamiliar place with new technologies, attitudes, and lifestyles.
Cadis Etrama Di Raizel, Rai, while seeking to familiarize himself with this era, somehow locates a loyal servant of his, Frankenstein, who is currently the principal of a South Korean high school. Rai decides that this high school would be the perfect place to help him learn about the new world. He enrolls, and suddenly becomes the friend of Shinwoo, an immature teenager who is also a master martial artist. But this new world is no safer than the old, and the dignified, bewildered, technologically illiterate Rai finds himself caught up in adventures both ridiculous and dangerous.

Well, now that I'm reading this, I really feel the need to write my own version.

Umm... So Rai is a vampire who's been asleep for 820 years. When he awakens, he does enroll in his old faithful servant who leads a very high class school.
On the other side, we discover that a mysterious organization has sent two supernatural agents on the lead of Rai's coffin. And one of them is a super hyper HOTIE !!!
In the beginning, he's not exactly handsome, cause he's a bad guy (kyaaaaa !), but he keeps getting cooler and more beautiful, with a twisted path (kyaaaaa !!) His name is M-21. No comment.
In fact, this manwha is full of hoties. The hero, Rai, is beautiful in an elegant, silent type kind of way ;
Shinwoo, his friend, in a feral, bad hair day kind of way,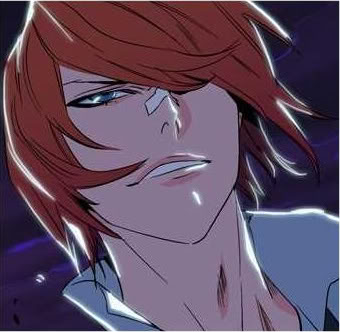 and each new character adds to the general hotness.
The storyline is also pretty good, but I don't want to reveal too much.